The tweet that went viral.
This is supposed to be a weekly reflection, but I think starting this newsletter with a background of the initial idea and the process of how I started is appropriate.
The Idea
For those who know me, I'm sure you've heard this story a million times, but bear with me. So, having my own shop isn't exactly a new thing. For about 6 months of 2016-2017, I handmade and sold bath bombs.
How I got into that was a complete accident; I was quite broke one holiday season and needed to DIY some gifts. I gave the women in my family and friends some bath bombs that I had thoughtfully and carefully whipped up, and everyone absolutely loved them.
They said I should sell them… so, I did. Even managed to sell a batch to a spa in St. Louis. That was a very proud and defining moment for little 23-year old me with zero knowledge of running a business.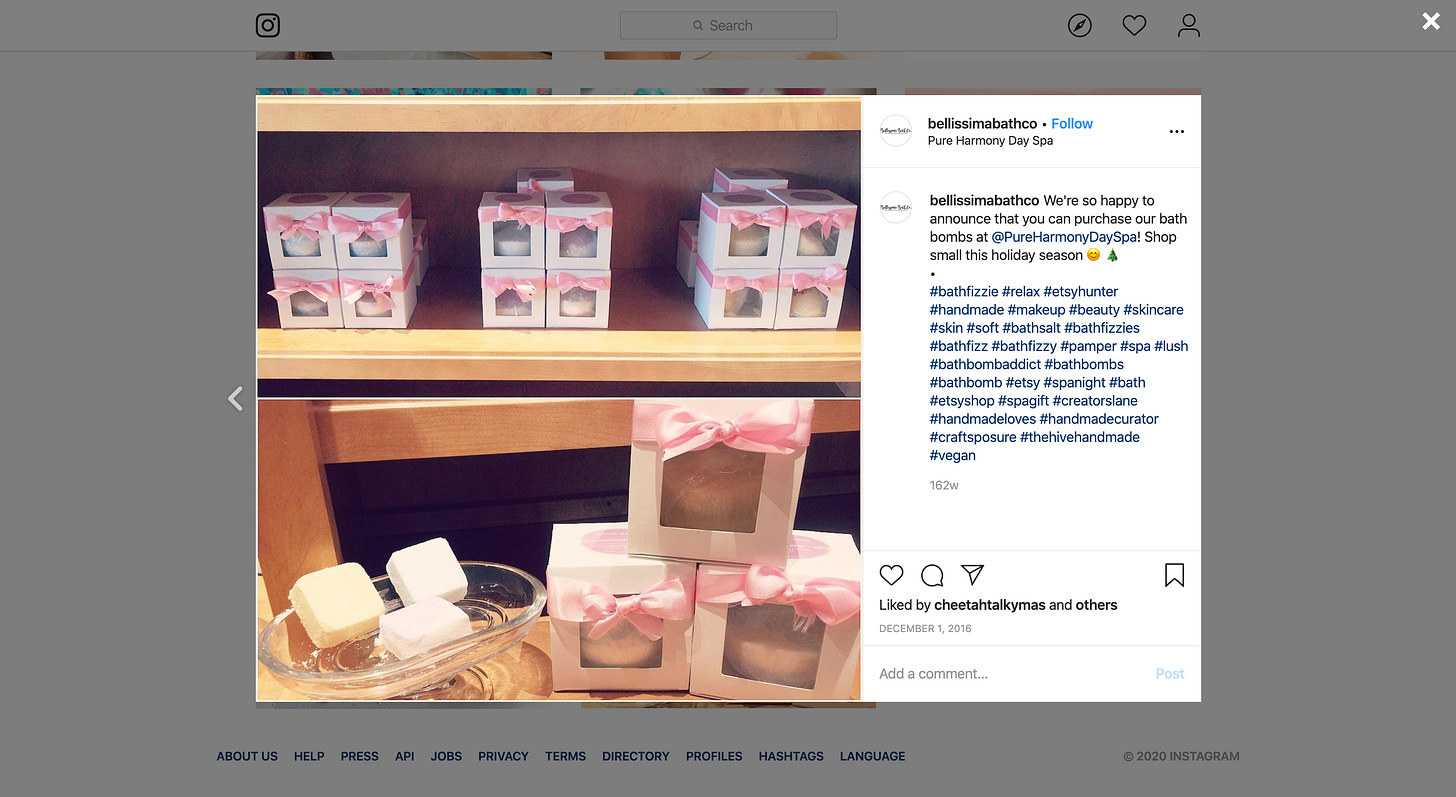 Sidenote: This is a trip through memory lane for me! I tried to dig out some old photos and instead, managed to find my old shop's Instagram is still active. You can see it in all its glory 😍
Extra sidenote: All those product photos were taken on my iPhone 7!
Well, that shop was a huge trial and error — albeit, for the short time it lived, successful. However, in 2017, I then left to travel abroad for 2 years.
It wasn't until a few months ago, in November 2019, that I decided to return home. Okay, great, we're almost up to speed!
When I was away traveling, I was in love with all the freedom I had… but one thing was missing. During those 2 years, I realized how much passion I had for the act of making something physical. The process of making bath bombs and trying to sell them was insanely rewarding. Unfortunately, nothing was able to fill that void inside of me and I craved to be able to do that again.
Now being home, that was all that was on my mind. Once I was all settled in and adjusted, my mind immediately went to 'what kind of shop should I run?'
It didn't take long before I decided to start with candles. Honestly, it took just 2 minutes. This was something that I wanted to get into during the time I made bath bombs, but time didn't allow.
The Challenge
After deciding that this is how I want to spend my free time at home, I knew I needed to push myself somehow. Thankfully, I understand my strengths and weaknesses, otherwise I'd be sitting around doing nothing. And you know what, that's okay to do that sometimes 😜
But my biggest fault is that I have too many ideas. I am not kidding, if I glance up from my laptop right now and look around, I think 'oh, I could sell coffee and tea, why don't I try to handmake notebooks, or why isn't there an app to notify me when Friends is on TV? Oh wait, that's called a TV Guide… maybe I could remake that.'
My point is, a lot of the time I get fixated on the ideas of wanting to do something rather than actually doing it.
My solution to this: putting my thoughts out there.
If I put my thoughts out there to the public, then I will actually get shit done. It's how I hold myself accountable. My Twitter has 1.9k followers, if I tell 1.9k people I'm going to do something, then holy fuck, I better actually do it.
This tweet is probably why many of you are even reading this post right now. The reason why I gave myself a challenge was because I wanted this idea of something huge to become very little.
The process of launching, managing, marketing and scaling a shop is a lot to take on. And I want to add manufacturing the products for it, too? I clearly have big ambitions.
But when I limit myself to only spending $100 for just 30 days, that huge process seems to disappear. It helps me focus only on what's necessary to begin.
It's also extremely low-risk. This is something I learned from my previous shop; I naively jumped right into that and probably spent $500 on materials because I wanted to make every product idea I had.
Starting as small as possible is definitely ideal when you're unsure of whether it will take off or not. I can handle a $100 loss and I'm happily willing to dedicate 1 month of time for a personal project that excites me.
3rd sidenote: Someone suggested this concept should actually become a known challenge, and I think that's fucking awesome. There's even a hashtag! So proper 😍
Today I started the
#100and30
movement created by
@diannamallen
I am validating
squidstartups.com
an MVP development agency. My first step was creating an ad on Linkedin. I will spend around $25, still have $75 to go. 🚀
Squid
MVP development, by entrepreneurs for entrepreneurs.
squidstartups.com
So, how did my personal challenge turn out? I succeeded!
Yesterday was day 21 out of my 30, and I received a Shopify notification during the morning which pushed me over $100 in profit.
And the best part of it all? I haven't spent $100 yet.
$8.56 - domain

$42.96 - manufacturing materials

$29.00 - Shopify 'Basic' plan
Total: $80.52
The Execution
This is where all the fun began! And honestly, I was pushed quite quickly into it…
This question put me into a mini-panic. I was still only one day 1 of my little challenge! I had bought the domain at this point, I had some brand identity mapped in a notebook, but I did not have a shop.
I didn't have a website, I didn't have any products, so what could I do? I definitely was not about to miss out on my first customer.
Within an hour, I signed up for a free trial of Shopify, scrambled to build a website as minimally as possible while trying to give it somewhat of a branded appearance, and create a mockup product.
The website took maybe 20 minutes to pull together, I wasn't worried about that at all. I cared about the mockup product; it needed to look exactly like what I would actually sell.
I think I did a good job 👇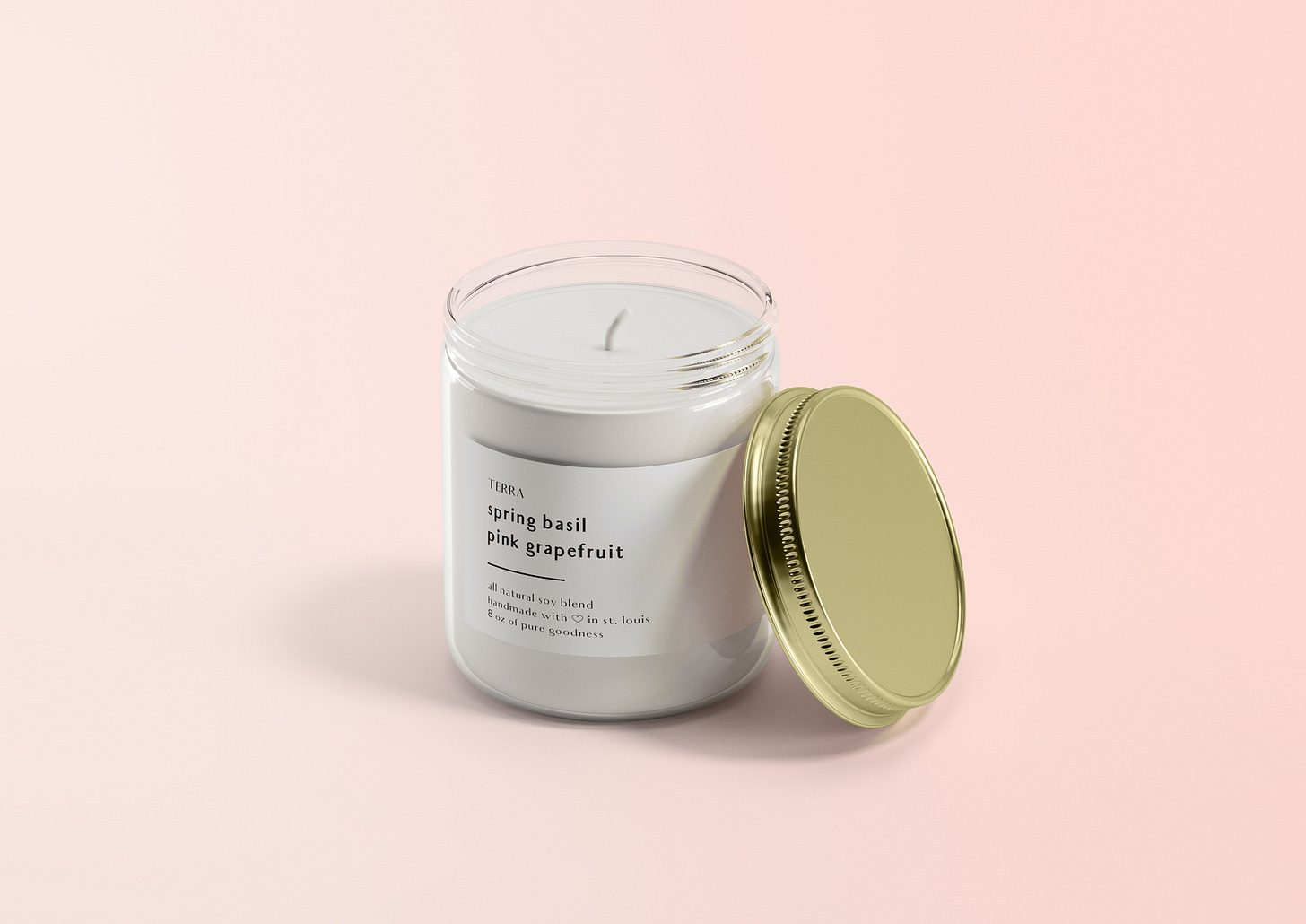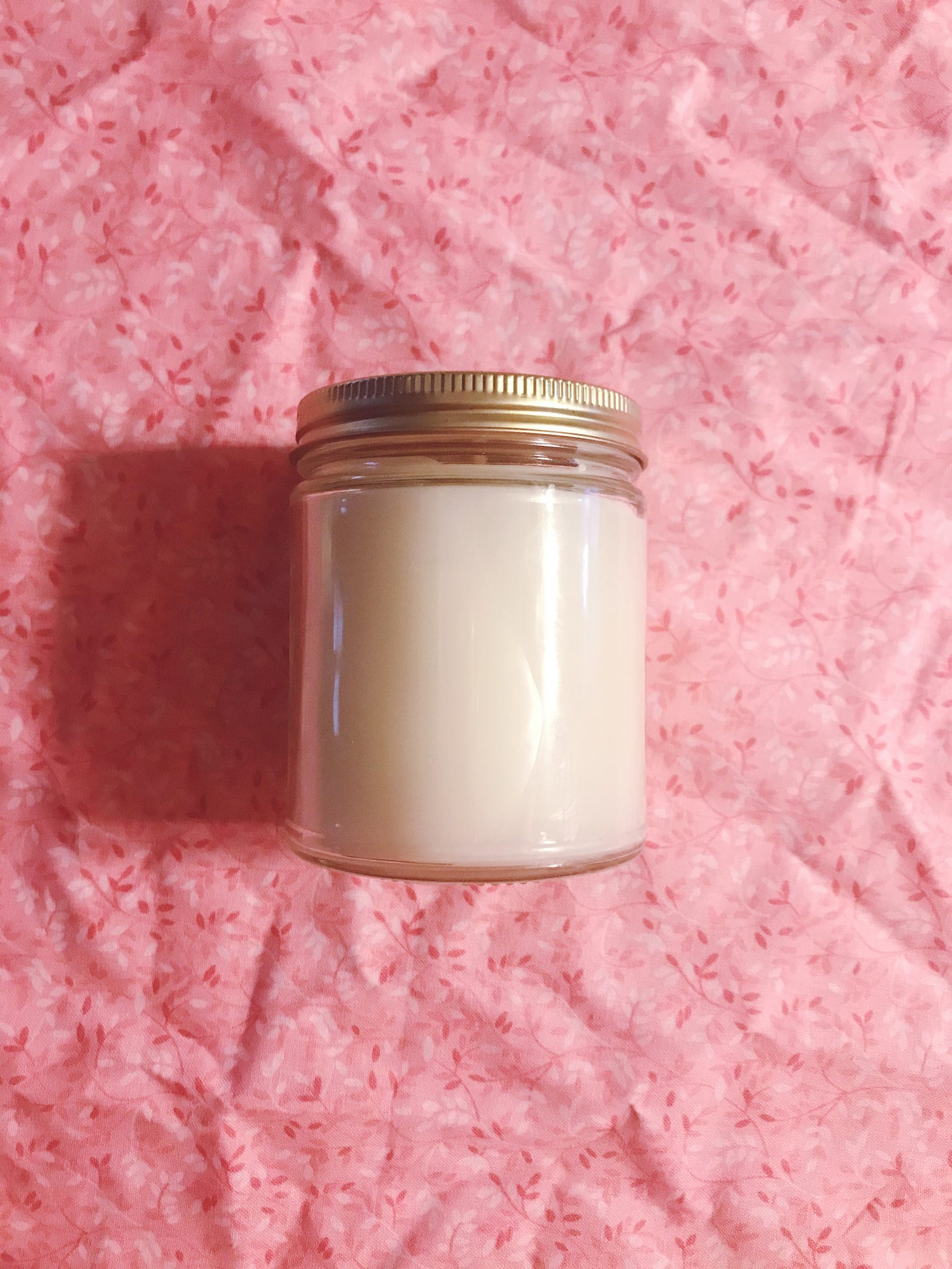 Obviously missing something, but labeling and packaging is my task for this week 😝
So, how do you sell a product that doesn't exist? Pre-orders, my friend.
I made sure to portray the website as a shop that hasn't launched yet, with products that will be shipped at a later date rather than immediately.
Which is fantastic because I can sell products while not feeling rushed to manufacture and fulfill orders. This also gave me time to test my product and ensure I'm happy with selling it someone.
And for what it's worth, my mom loves the candle scents 💛
I'm really proud of pushing myself into this. It's not easy, I'll tell you that. Every action in this early phase is quite strategic because it could lead to wasted money or time. I spent an hour the other day calculating the same 4 basic math equations over and over to make sure it wouldn't lead to wasted product. That's just how it is sometimes 🤷‍♀️
Running a shop and being able to create tangible products is honestly where my heart lays. I expect this to be a very long journey until I hit numbers that won't go right back into materials and supplies, but I'm excited for the ride until then.
Thanks for reading!
xo, Dianna
---
If you enjoyed this and are curious about my failures and successes with TERRA, subscribe to receive my weekly business reflections in your inbox.